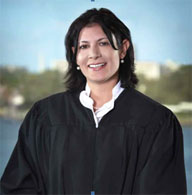 It is with great sadness that we report the passing of the Hon. Meenu Sasser, Circuit Judge. Judge Sasser, who was appointed to the bench by Gov. Charlie Crist on April 30, 2009, passed away on Saturday, July 6, 2019, after facing and fighting a courageous battle against cancer.
Judge Sasser served the Fifteenth Judicial Circuit as a Circuit Judge in the Circuit Civil,Foreclosure, and Criminal divisions. During her tenure, she sought and implemented innovative procedures and processes to assist litigants and attorneys alike.
Judge Sasser received her B.S. degree from the College of William and Mary in 1992 and her J.D. degree from the University of Pennsylvania Law School In 1995.
She began her law career in 1995 as an associate with the law firm of Gunster, Yoakley & Stewart. She became a shareholder of the firm in 2002 and remained with the firm until she was appointed to the Circuit bench.
Our thoughts and prayers are with Judge Sasser's family and friends.