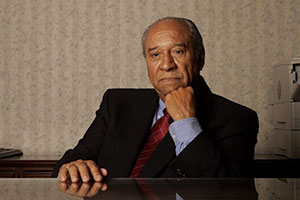 ​
The Fifteenth Judicial Circuit mourns the passing of an extraordinary jurist and community leader, the Hon. Edward Rodgers (1927-2018). Judge Rodgers served for 22 years as a Judge in the Circuit including a term as Chief Judge from 1983-1985. He retired from the bench in 1995 but not from his community work, which included serving as a Riviera Beach Councilman and Mayor, and as a member of the Palm Beach County Ethics Committee.
Judge Rodgers graduated from Howard University with a Bachelor of Arts and subsequently obtained his Juris Doctorate from Florida A&M University, College of Law. Two years after graduating from law school, Judge Rodgers was appointed the first black county prosecutor in Palm Beach County followed by an appointment to the County Court bench as the Circuit's first black judge in 1973. He was elevated to the Circuit Court Bench in 1977. In 1991, Judge Rodgers started the Riviera Beach Civil Drug Court which operates to this day. This community court serves the citizens of Palm Beach County who struggle with substance abuse issues. In 1992, Judge Rodgers was recognized for his visionary work related to the Riviera Beach Civil Drug Court with the Jefferson Award, the "Nobel" prize for public service.
Our thoughts and prayers are with the Rodgers' family. May he rest in peace.