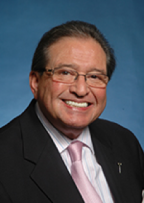 It is with great sadness that the Circuit announces the passing of the Honorable Ronald V. Alvarez on Tuesday, August 8, 2023. A native from Gary, Indiana, Judge Alvarez graduated from Indiana University in 1966 with a Bachelor of Arts degree in Political Science, and in 1969, graduated from the Indiana University School of Law with his Juris Doctor degree. Upon completion of law school, Judge Alvarez went on to serve in the United States Army until 1971.
Judge Alvarez operated his own firm until his appointment to the Circuit Court Bench in 1993, by then-Governor Lawton Chiles. During his time with the Fifteenth Circuit, Judge Alvarez held assignments in the Civil, Family and most notably, the Juvenile Divisions, and was responsible for establishing the Juvenile Drug Court. He was also instrumental in implementing the Circuit's Caring Canines Therapy Dog program. Judge Alvarez retired from the bench on September 30, 2014.
Judge Alvarez will be remembered for his work on and off the bench and for his compassion for those he interacted with.