Mediation staff shall hold scheduled mediations remotely, VIA Telephone or Video Conference. As per the directive of the Chief Justice and Chief Judge, mediation may not proceed in-person until further order of the Court. Please call 561-355-2739 to be connected to your mediator, if you have not received information for proceeding 24 hours prior to your mediation.
HOW to ZOOM: instructions for attorneys and litigants regarding remote hearings.
---
§ 44.1011(2) Fla. Stat. defines mediation as "a process whereby a neutral third person called a mediator, acts to encourage and facilitate the resolution of a dispute between two or more parties. It is an informal and non-adversarial process with the objective of helping the disputing parties reach a mutually acceptable and voluntary agreement. In mediation, decision-making authority rests with the parties. The role of the mediator includes, but is not limited to, assisting the Parties in identifying issues, fostering joint problem solving, and exploring settlement alternatives.
---

---
The Family Court Case Management at the 15th Judicial Circuit thrives to provide excellent service to the self-represented litigants in all family divisions. For a timely and fair processing of the inquiries by the self -represented litigants in family divisions, the Circuit has implemented the following case inquiry system to be utilized by the self-represented litigants.
The team will provide procedural assistance, case status and will answer any procedural questions that you may have about your case. Please note, they cannot provide legal advice.
---
Family Mediation
Is a confidential and privileged, private, informal conversational process where the parties present their positions.
There are rarely witnesses and relatively few documents.
Although attorneys are frequently present, they are there to advise their clients prior to making decisions.
It is future oriented and the parties through negotiation, bargaining and compromise make decisions.
The decision takes the form of an Agreement, which tends to be mutually acceptable to all parties, and, as a result, there are no real losers in the process.
It is a process, which can be employed in any stage of the case, and is relatively inexpensive, both emotionally and financially.
There is a good likelihood that a positive relationship can be established between the parties due to the fact that they have reached a speedy conclusion to their dispute by help of the Family Mediator:
Family Mediator:
A family mediator is a Florida Supreme Court Certified Mediator.
A family mediator facilitates the participants' understanding of what mediation is and assess their capacity to mediate before the participants reach an agreement to mediate.
A family mediator conducts the mediation process in an impartial manner.
A family mediator structures the mediation process so that the participants make decisions based on sufficient information and knowledge.
A family mediator maintains the confidentiality of all information acquired in the mediation process, unless the mediator is permitted or required to reveal the information by law or agreement of the participants.
How to pay Mediation Fees
Pay through the e-portal/e-filing. Instructions on how to Pay Your Mediation Fees Online
Mail fees by check or money order made payable to:


Palm Beach County Clerk
Palm Beach County Clerk's Office (Family/Domestic Relations)
P.O. Box 3597
West Palm Beach, FL 33402
(561) 355-4880 or 355-6709

Please include the Disclosure of Mediation Fess form with your payment:

You may qualify for a fee waiver. Please use the form below to apply.
Courthouse Locations
Florida Courts Help App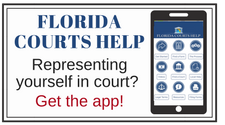 The app offers in one place information for people seeking a divorce, adoption, orders of protection, name change, and other family law issues. The Florida Courts Help app is available now from the most popular app stores. Links and instructions are also available at Help.flcourts.org.
Helpful Links
Helpful Documents & Forms